Territory people-movers pull over for action

Print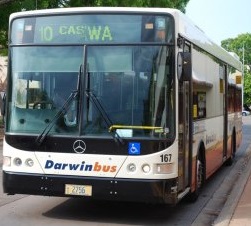 Bus drivers in the Northern Territory have gone on strike, and threatened to do so again until their pay and training demands are met.
The Territory's Transport Workers Union says drivers stopped work for 24 hours on Monday morning after their demands went unheard for too long. The union's branch secretary Ray Wyatt said there is the possibility of further industrial action.
"We met (yesterday) with 75 per cent of the bus operators on their day off. They are in good spirit and they are determined to get their message out there in their quest to get fair, safe paying conditions," Mr Wyatt said.
A private company had to be brought in to minimise disruption at peak hours. Northern Territory Minister for Transport Peter Styles says they will do it again in the case of more strikes.
"My understanding is that there is some strike action for the third of October, that's in the morning and again, and I'm sure the Department of Transport will be working very hard to ensure the public are impacted on as little as possible," Mr Styles said.
The Transport Workers Union representative said: "Our members are expressing their democratic right to withdraw their labour under the fair work act. They're having a 24-hour stoppage."
Driver Sanjeev Kumar said: "If I am living on my base salary I can't afford to put food on the table and I didn't have any holidays for the last 18 months... our base salary is minimum, it's on minimum level."
Reports say some of the private company drivers brought in also agreed with their colleagues on the strike, but were strongly pressured into filling the gaps.