Roadworthy bribes aired at CCC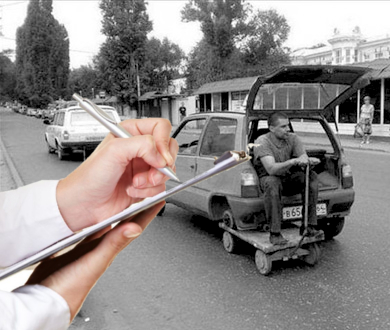 Western Australia's Corruption and Crime Commission (CCC) has heard that state and local government employees have taken cash in exchange for dodgy roadworthy and license checks.
The CCC has held public hearings as part of its investigation into vehicle and driver licensing.
It has heard that Department of Transport (DoT) contractors and local government employees sometimes do sketchy deals on licenses, and some even have links to organised crime.
"The individuals who will be examined, some of whom are associated with organised criminal elements, have taken advantage of weaknesses in systems associated with outsourcing of services previously provided by the DoT," counsel assisting Alan Troy told the hearing this week.
"They have done so simply by going to corrupt individuals who are contracted to provide public regulatory functions."
Witnesses told the CCC that in February 2014, a man who had made extensive illegal modifications to his car paid cash to an authorised inspector for a roadworthy certification.
The owner sold the car for $20,000 but it was on the road for just a few days before police ruled it illegal.
The new owner paid over $16,000 for repairs, but it eventually had to be sold for parts after more serious mechanical failures.
Another witness told the hearing that the DoT had an agreement with several local governments to do data entry and payment processing.
The CCC said it would examine whether council employees were exploiting the system too.
The hearing heard one case of a driving assessor from Perth taking money to pass a driver for a motorbike license, without even conducting a practical test.
The CCC heard that rather than take the test, the would-be driver simply went to the assessor's house and paid him $100 cash.
Mr Troy said that the transport regulatory systems were set up in the name of public safety, but that outsourcing government services could create some challenges.
"The decision as to what vehicles can be driven on our roads and who may drive them is very heavily regulated for good reason," he said.
"The overall value of outsourcing services in the current circumstances should not be understated.
"However, the advantages can come at a cost if private contractors are not managed correctly and if appropriate governance is not put in place to manage the standard of the service being provided."
The hearings will continue next week.