River rules not helping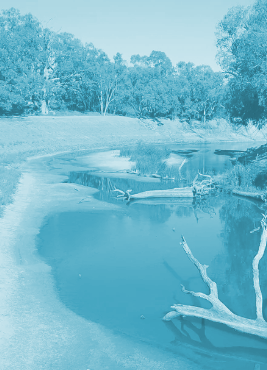 Experts say the overlooked "human factor" in water management rules can have serious consequences.
A new study has investigated the elaborate variety of decisions that river managers make about how to allocate and account for the water available.
Alarmingly, when researchers swapped the rules governing the Gwydir and Macquarie rivers of the Murray-Darling Basin in NSW, their analysis revealed stark differences in the water volume available long-term for the rivers and irrigation diversion.
They found differences of between −6 per cent and +0.1 per cent in the Gwydir River and between −4 per cent and +22 per cent in the Macquarie River.
The findings could have significant implications for licensed water users and the governments which own, audit and manage water in rivers under the Murray-Darling Basin Plan.
"Water sharing plans and the Basin Plan itself are supposed to allow for clear tracking of what happens to the water in the rivers, but these documents are complex and opaque, and it is virtually impossible for the general public to understand how water is allocated to a licence," Dr Steinfeld said.
"What is clear, is that there are major differences in how a set of inconsistent and largely unknown rules influence the volume of water available to irrigators and the environment in the rivers of the Murray-Darling Basin.
"So, the amount of water allocated to billions of dollars' worth of water licences is not simply a matter of how much water is available in a catchment."
State government water agencies manage the Murray-Darling Basin's rivers in order to deliver water to towns, irrigation areas, rivers and the environment.
The amount of water delivered usually depends on how much water there is in large, government-built dams, which allows government agencies to allocate this water according to licensing rights.
Professor Richard Kingsford, Director of the Centre for Ecosystem Science at UNSW, says the lack of clarity in river management rules makes it difficult to track what is happening.
He said it also makes if difficult for the Murray-Darling Basin Authority to transparently audit management.
"It is remarkable that we can have the same water agency – in the same state and governed by the same legislation – run two rivers in the Murray-Darling Basin in such different ways without any clear justification," Prof Kingsford said.
"Specifically, we identified the two quite disparate ways that the Macquarie and Gwydir rivers are managed: the Macquarie River runs on a 'credit' model, whereas the Gwydir River uses a 'debit' model to allocate water."
Prof Kingsford said the Macquarie River's 'credit' system means that water managers allocate water even before it rains and before Burrendong Dam (the main dam) fills up.
In contrast, Dr Steinfeld said the Gwydir River's 'debit' system is a more conservative approach for water allocation, in which water managers wait until flows have arrived in the dam before giving out the water.
Prof Kingsford says it is no accident that some of the Murray-Darling rivers in most trouble during the recent drought were those such as the Macquarie River, where water plans were abandoned as towns like Dubbo expected to run out of water.
"Worse, we see the NSW Government now thinking it can fix this problem by building another weir to capture water in the Macquarie River, largely ignoring proper environmental assessments and impacts on the river and the internationally important Macquarie Marshes," he said.
Dr Steinfeld said the midst of the Millennium Drought (mid-2000s) saw water management plans using the 'credit' rules suspended in NSW's Macquarie, Murrumbidgee and Lachlan rivers.
"At the same time, water management plans using a more conservative 'debit' rule, where only water in storage was allocated, remained in place for the Gwydir, Namoi and Border rivers," she said.
Prof Kingsford said the highly complex water allocation rules have evolved differently across river systems for decades, and it is now time for a review.
"Each jurisdiction in the Murray-Darling Basin has its own separate policies and allocation frameworks which determine how water is allocated to individual entitlement holders," he said.
"Some rules are not well documented while others are enshrined in legislation making them very difficult to change. They are also subject to interpretation by river managers.
"This is a black box which must be opened up so all those who depend on the water can see what is happening and how water managers are running our rivers."
Their study is accessible here.