Lawyer slams Metro North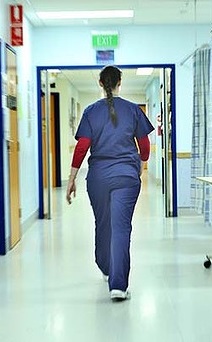 Australia's biggest hospital service allegedly tried to gag a whistleblower who exposed its allegedly corrupt behaviour.
Metro North runs five hospitals including Australia's largest, the Royal Brisbane and Women's Hospital.
It is Queensland's third-largest bureaucracy, with a workforce of about 15,000 people.
Metro North hospital service's former senior commercial lawyer Alex Stewart has gone public with a range of damaging allegations.
Earlier this year, Mr Stewart exposed the service's allegedly corrupt funding of a defamation lawsuit by psychiatrists against a former patient.
He revealed that Metro North paid for four psychiatrists to sue a former patient for $700,000 in damages for defamation, after the patient claimed she had been unlawfully held in a mental health unit.
"From my perspective as an experienced government lawyer, the matter involves an executive body using employees as a vehicle to conduct a sham proceeding before the courts," Mr Stewart told the ABC.
"The use of the state's resources to go gunning for a patient is unconscionable."
He now says Metro North hired a top legal firm, Minter Ellison, to warn to warn him against going public.
Mr Stewart says a letter from Minter Ellison demanded he "take all reasonable steps" to stop media outlets from publishing the story.
"I think this is a pretty perfect example of the kind of aggressive legal tactics which have been used in order to silence people who raise any dissent or any criticism of the service," Mr Stewart told the ABC.
The letter has reportedly been referred to Queensland's Crime and Misconduct Commission (CCC) by the office of Health Minister Steven Miles, after Mr Stewart alleged the letter was a reprisal against a whistleblower.
"It's pretty clearly to try and shut down any disclosure to a journalist, and that's the main purpose for it," Mr Stewart said.
"I think it's about time that the Minister showed some leadership in dealing with the behaviour that I've raised concerns about."
A spokesperson for Mr Miles has not answered questions about whether the Minister knew Metro North funded the defamation case.
The minister does "not comment on individual patients or employment matters", his representative said.
"These decisions are made independently by hospital and health services under the arrangements introduced by the LNP [Liberal National Party]".
Metro North has reportedly refused to comment.