Funds flow after feisty Ita floods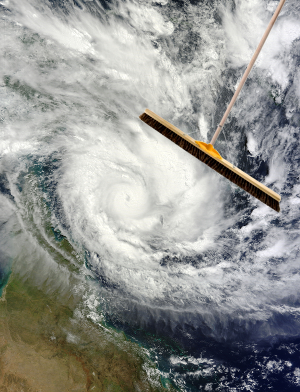 State, federal and local government authorities have toured cyclone-hit regions of north Queensland in the wake of the weekend deluge, with funding packages announced and rolling-out for thousands of residents.
Dealing with the fall-out of severe tropical cyclones is virtually routine for residents of the far north Queensland coast. After Cyclone Ita tore down the side of the state last Friday night, many have fired up generators and got down to the near-annual task of clearing floodwater, debris and damage.
Queensland Premier Campbell Newman and the state's Agriculture Minister John McVeigh announced funding packages to help with repairs.
Grants of up to $5,000 are available in freight subsidies to get much needed supplies back to towns. Some residents can also access concessional loans up to $250,000 to assist their rebuilding.
Politicians and emergency authorities are touring the cyclone-affected sites from Cooktown to Proserpine to get a scope of Ita's impact.
Outreach teams will visit more remote communities of Cooktown, Laura, Wujal Wujal and Hope Vale on Cape York to support residents, helping dispense Immediate Hardship Assistance grants worth $180 per person or up to $900 for families of five or more.
Uninsured cyclone-affected residents can be eligible for Essential Household Contents Grants, Essential Services Safety Reconnection Scheme Grants, or even a Structural Assistance Grant of up to $14,500 for uninsured homeowners.
Federal Attorney-General George Brandis will meet with local MP Bob Katter to tour the regions late this week.
Thousands were left without power after the violent downpour, but Queensland Energy and Water Supply Minister Mark McArdle and Ergon Energy chief executive officer Ian McLeod say everything is being done to get the lights back on for everyone by Friday.
Rail authorities say they expect to be able to fix affected lines by Sunday.
For many in the frequently cyclone-ravaged region, it was back to business just hours after the storm settled.
Community Recovery Minister David Crisafulli, also the Minister for Local Governments, says tourism is still open.
"There's been some huge success stories," he said.
"The rail line at Kuranda has been cleared in record time - the region is open."
"The greatest gift that people can give these operators is to support them over the Easter long weekend - they really need a hand right now."
The Daintree River, an extremely popular route for tourists to experience the ancient rainforests of tropical north Queensland, broke its banks in the cyclone.
The ferry has been re-opened to locals only, as the river must be dredged before dozens of tourist boats operating there can return to work.