Don Dale riot up for review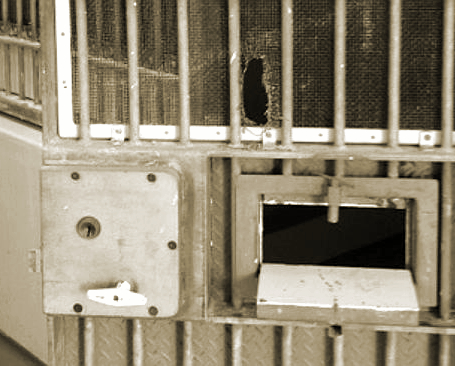 Armed police officers have stormed the Don Dale Youth Detention Centre in the NT.
A group of detainees stole keys from staff and ignited a riot on Tuesday, set the prison's school on fire and attempted to break through fences with power tools.
Tear gas was deployed, and the NT Police's Territory Response Group stormed the facility to quell the disturbance.
The entire Don Dale facility is now marked as a crime scene, and all detainees have been moved to a police watch house.
NT Police Specialist Services Commander Matt Hollamby and Territory Families general manager youth justice Brent Warren have been asked what went wrong.
They say a big part of the problem is the facility, which is a retired adult prison, and was deemed "not fit for accommodating, let along rehabilitating, children and young people" last year.
Mr Warren says that things have changed since Territory Families took over operation of the Don Dale Youth Detention Centre in 2016.
There is now "a significant focus on making the centre as good as it can be whilst we work towards building a new centre", he told the ABC.
"We've been trying to make do with what we've got," he said.
"We've invested a significant amount of money in changing the nature of that facility, to make it look and feel more suitable for young people in detention."
He said changes include softening the look of Don Dale's interior, and the introduction of more therapeutic care programs.
NT Children's Commissioner Colleen Gwynne says it is still an "archaic" centre.
"The fact that we still walk around with keys that can be taken off us, you know that's unheard of in modern day youth detention," she said.
"It's all electronic ways of locking down cells in other part of Australia. We are still working with very dated centres, dated systems."
Deputy Chief Minister Nicole Manison blames the detainees.
"What we saw happen last night at Don Dale was unacceptable," she said.
"There is absolutely no excuse for attacking a worker within the centre to get keys and then to go out and participate in the sort of acts that we saw."
She also defended the use of tear gas.
"I have to applaud the work of police and the work of Territory Families officers within Don Dale. They absolutely did their best job to make sure that that situation was resolved sensibly," she said.
"Ultimately, we saw this situation resolved where the detainees were not hurt, and we saw that nobody escaped Don Dale.
"So I do think police did a wonderful job in a very trying situation."
NT Police are investigating the incident and Territory Families has launched an official a review.
A number of the detainees are expected to be charged.