First listed on: 13 September 2020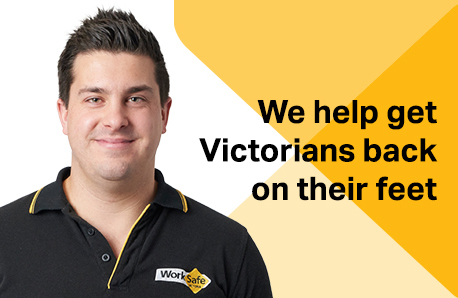 Independent Review Officer
About the role
The Workers Compensation Independent Review Service (WCIRS) provides a non-statutory review framework for decisions made by claims agents under the Workplace Injury Rehabilitation and Compensation Act (Vic) 2013 on behalf of WorkSafe. The primary purpose of WCIRS is to review disputed decisions relating to workers' compensation claims and entitlements in a manner that ensures fair, reasonable and sustainable decision-making outcomes that assist WorkSafe to encourage promote and support workers through their recovery and provide effective occupational rehabilitation and early return to work through suitable employment opportunities.
The Independent Review Officer is expected to undertake a high level of complex investigative and analytical work that has significant implications across WorkSafe Victoria operations while working within clear and established management systems, legislative/regulatory provisions and professional standards.
Key accountabilities include:
Investigate and determine applications for review of disputed WorkSafe agent decisions and other WorkSafe decisions in a fair, reasonable and timely manner.
Write clear and logical decisions setting out the basis for decision, relevant findings of fact and the material on which those findings were based.
Build and maintain collaborative working relationships with internal stakeholders and provide support and learning opportunities relating to or arising out of a non-statutory review.
Communicate decision outcomes of reviews and the reasons for those outcomes to workers, agents or other authorised decision-makers and relevant WorkSafe staff in a timely and professional manner.
Liaise with and provide instruction and guidance to employers, employees and other duty holders in relation to the review process.
In a continuous improvement dynamic :

Provide guidance to WorkSafe staff and agents on matters relating to the review process, including trends, issues or feedback identified during reviews that support fair, reasonable, consistent and sustainable decision-making objective; and
Continuously review and, where necessary, provide feedback to the Lead Counsel and Senior Independent Review Officers in the revision and update of procedures, processes and policies within the independent review team.

Please ensure you take a look at the Position Description provided for additional information on accountabilities for this role.
About you
You have demonstrated experience as a technical expert or a complex specialist as a legal advocate or policy specialist in the Victorian workers' compensation framework. Your written and verbal communication skills will be highly developed and you will have the ability to work independently with minimal supervision in an environment of internal and stakeholder pressure, and strict statutory deadlines.
More specifically you will have:
Essential Skills & Experience
Demonstrated experience in conducting administrative and merit reviews or formal organisational investigations.
Highly developed and demonstrated knowledge of the Workplace Injury Rehabilitation and Compensation Act (Vic) 2013 and the Victorian workers' compensation statutory framework.
Highly developed alternative dispute resolution, conflict resolution and facilitation skills.
Demonstrated ability to assess competing and complex arguments and to reach logical and sustainable conclusions based on relevant material.
Demonstrated ability to write sound logical and sustainable decisions capable of withstanding internal and external scrutiny, including scrutiny by Courts and Tribunals.
Demonstrated ability to work as an effective member of a highly motivated, multi-disciplinary team, to meet timelines and effectively manage varying and complex workloads.
Capacity to deal effectively and tactfully with a wide range of stakeholders in the review context, including workers, employers, lawyers and other representatives.
Demonstrated ability to present review outcomes and learnings to internal and external stakeholder groups.
A high level of personal integrity.
Highly Desirable Skills & Experience
Previous experience in the operation of merit review Tribunals, such as VCAT in relation to administrative decision making.
Previous experience in statutory decision-making functions.
Sound understanding of the principles of administrative review, and their application to the WorkSafe review context.
Understanding of the principles of statutory interpretation and legal precedent.
Working with Us
We pride ourselves on being a great place to work and offer flexibility to facilitate work/life balance. WorkSafe employees enjoy: Discounted Gym & Pool Memberships | WELL Rated Building | Group Training & Yoga Classes | Very active Social Club | Pool & Table Tennis | Sparkling Water | Discounted Prescription Eyewear | Career Opportunities and Working for your Community!
What's next?
Applications close 11pm Wednesday 23rd of September. Click the link to apply, and join us in making a difference to Victorian lives.
Only people with the right to work in Australia may apply for this position. You may be required to undergo a National Police Check (and Medical Assessment) as part of the recruitment process.
Candidate screening may take place prior to the advertisement closing, so get your application in.
For further enquiries please contact Ilona Russell at ilona_russell@worksafe.vic.gov.au
About Us
At WorkSafe our passion for the wellbeing of Victorian workers brings us together. Our people come from a wide range of professions and with no two days ever being the same, diverse thinking comes naturally to us. As we build the WorkSafe of the future we're committed to delivering industry best practice to our people, our customers and the community.
Our future
WorkSafe 2030 will ensure that WorkSafe Victoria remains at the forefront of workplace health and safety, and meets the community's high expectations in relation to managing the workers' compensation scheme at a time of rapid workplace change. WorkSafe 2030's prevention-led approach will save lives and reduce injuries. It will deliver affordable premiums and lower administration costs for employers, freeing up their time and resources.
WorkSafe are striving to build a diverse workforce that reflects the Victorian community we serve.
Closing Date:

23 Sep 2020
Location:

VIC - Melbourne
Salary:

$132,814 per annum plus 9.5% super
Work Type:

Full Time
Category:

Auditor/Analyst
Legal/Compliance
Occupational Health and Safety
Policy/Strategy/Governance
Stakeholder Engagement/Management