Victoria lowering donation limits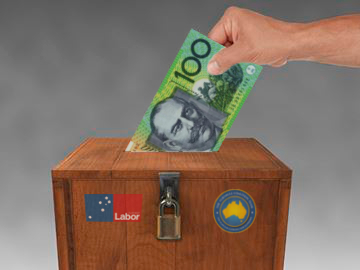 The Victorian Government says it will lower the cap on political donations and campaign funding.
Under the new rules, donations from individuals, companies and organisations will be capped at $4000 over a four-year parliamentary term.
The Government is also planning to set up real-time disclosure of donations and to publish details online, while the limit requiring disclosure will be dropped from the Commonwealth-mandated $13,200 to $1000.
Donations from foreign sources will be banned.
In order to keep the public informed, Victorian Premier Daniel Andrews says election campaigns will receive more public funding.
Reports say that administrative revenue - such as party membership and affiliations – will be treated differently to campaign funding, so that unions can continue to bankroll Labor's political activities, but not election campaigning.
The changes will have to pass Victoria's fractious upper house, where it does not hold the majority.
The reforms should apply to associated entities, which are controlled by or operate for the benefit of a political party, extending to the rules to third-party campaigners such as unions and business groups.
"Third-party campaigners like a union or a GetUp!, they too will have same thresholds for donation disclosure so that everybody is on a level playing field," Mr Andrews said.
It could mean an uncertain future for fund-raising groups connected with major parties, such as Labor's Progressive Business and the Liberal-aligned Cormack Foundation.
Fees to join political parties will be exempt from the changes, but disclosures in annual returns should allow people to see if parties take what used to be donations and turn them into a membership fee.
Breaching the laws will carry a sentence of up to $44,000 in fines and two years' jail.
Both the Liberals and the Greens say they will be paying close attention to the wording of the legislation, in case the Andrews government has inserted loopholes to benefit itself.
There is a lot of progress to be made in the state with some of the weakest donation laws of any comparable jurisdiction.
Victoria currently has no caps on donations or spending other than a $50,000 limit on gambling licences, and relies instead on the Commonwealth's flimsy and loophole-ridden donations regime.
The Commonwealth standards only requires that donations of more than $13,200 are disclosed, and the publication of that disclosure can be as long as 19 months after it takes place.