TasTafe top people caught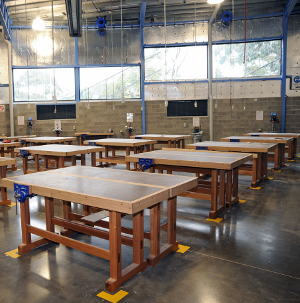 Heads are rolling at TasTafe after an audit of hiring processes.
Two senior TasTafe executives have stepped down following an Integrity Commission report.
The commission found that former chief executive Stephen Conway increased deputy chief executive Lori Hocking's salary without proper approval, created a position for her and allowed her to claim personal benefits using state funds.
She received salary increases of $55,000 in her first year alone, and about $30,000 in benefits from an "incentive payment scheme".
Mr Conway and Ms Hocking have now resigned.
Accounting firm Wise Lord and Ferguson is investigating hiring practices and the use of credit cards at TasTafe.
TasTafe executives have spent around $232,000 on taxpayer funded credit cards in just under two years.
Ms Hocking alone racked up almost $100,000 between July 2015 and May this year on travel, accommodation and consumables.
Mr Conway spent $36,000 on expenses including maintaining his boats.
Government minister Guy Barnett said interim updates should be available throughout the year that the investigations will take.
"Mr Conway was appointed by the former government, we've been here to help clean up the mess," Mr Barnett said this week.
"We believe the audit will help deliver confidence back into the sector."
Labor MP Michelle O'Byrne the Government should do more to ensure agencies are run properly.
"Why did the Government take so long to discover what was going on?" Ms O'Byrne said.
"I think most taxpayers, most students and most teachers want to know exactly what's going on and have certainty as they invest their dollars into the training system."