RSPCA wants complete horse cull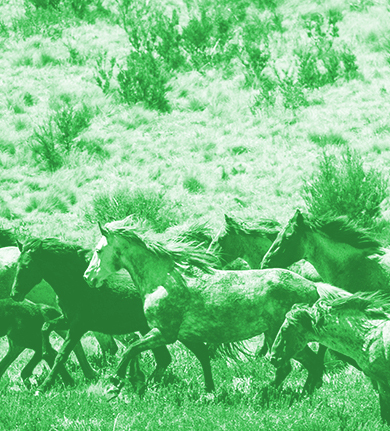 The RSPCA has warned that the NSW's Government attempt to protect wild horses from being culled will "veto evidence-based management" of their environmental impact.
New South Wales has put up legislation to formally recognise the cultural and heritage significance of wild horses inside the Kosciuszko national park.
The government has ignored a recommendation from its own environment department to cull brumby numbers in the national park by up to 90 per cent.
The RSPCA wants the government to reconsider, saying the bill would "make it impossible to conserve the unique environmental values" of Kosciuszko.
The government plans to manage brumby numbers with trapping and rehoming programs, combined with a government marketing campaign to promote brumby adoption.
The electorate of NSW deputy premier John Barilaro includes the national park. Mr Barilaro told the parliament that the horses were part of the "cultural fabric and folklore" of the region.
Environmentalists, academics and the Victorian government have all criticised the claim. Victoria has plans to remove more than 1,200 feral horses from its Alpine national park because of the environmental damage they cause.
Victorian environment minister Lily D'Ambrosio has told the ABC that the horses are causing "significant damage to the ecosystem".
"Through their legislation they will attribute the same values culturally to the feral horses as they do to the natural environment," she said.
"The two are incompatible, that is the reality. There is some cultural value to these horses in these alpine regions, however they are quite a destructive part of the environment."
The RSPCA has written to the NSW government and opposition, complaining that the recommendations made by an expert group established in 2014 to inform the brumby management plan are being "ignored".
Expert reviews have found that wild horses have "a significant negative environmental impact" in Kosciuszko and that "doing nothing is not an option".
It said trapping and rehoming would not be adequate means of population control.
"The outcome for 70 per cent of trapped horses was long-distance transport and slaughter in an abattoir or knackery, with only 30 per cent of horses being 'adopted' for domestication," the letter stated.
"There is very little detail in the bill about how wild horses will now be managed in [Kosciuszko].
"However, we note that the NSW government has indicated that the heritage management plan will specifically prohibit lethal culling of wild horses in [the national park].
"It will also limit any other management of wild horses to 'highly sensitive alpine areas' and such management will be limited to relocation and rehoming.
"We urge you to reconsider this approach and, at the very least, ensure that the bill includes the appointment of a new [expert group] to ensure that there is appropriate representation from the scientific community into future management decisions."