Outback town runs dry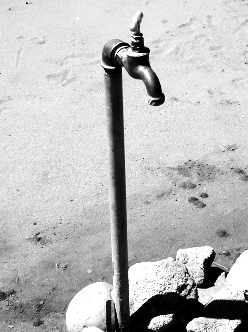 Drinking water in a remote Aboriginal town in SA has run out.
About fifty people live in Scotdesco, on the eastern fringe of the Nullarbor Plain, and each one faces an uncertain future now that the local catchment dam has run out of water.
Scotdesco Aboriginal Corporation chief Robert Larking said he raised the water issue facing the community with Premier Steven Marshall, Environment Minister David Speirs and local MP Peter Treloar back in April.
Public servants have visited Scotdesco to prepare a report for Mr Speirs, but Mr Larking says local cannot wait, calling instead for "immediate action".
"They came out for a day and had a look but they seen my eyes and my feelings when I opened the catchment lid and showed them it was bone dry," he said.
"Over the winter months, we only had 55 millimetres of rain. Over the last three years, it's just been slowly declining with the rain.
"We average 300 millimetres of rain a year — we haven't met that target over the last two to three years."
Mr Larking said water is being trucked in at a cost of $1,400 a trip, but a community just 30 kilometres away gets the same amount at a subsidised cost of $300.
"This means water needs to be purchased, and without government subsidies, the cost is crippling," he said.
"We are now in a desperate situation, there is no main potable water source here for the community, we have to buy clean drinking water and yet [the] Government has still not stepped up to help by providing subsidised water rates."
"It's really scary at the moment because as a community, we have our ups and downs … but [the lack of] water comes along and it causes chaos to the community by people leaving."
He called on the SA Government to extend coverage for its subsidised water cartage scheme to cover Scotdesco.
"The community currently has no other short-term option but to cart water," he said.
"The impacts of the lack of potable water for the Scotdesco community are significant.
"The Scotdesco community has a strong desire to be self-sufficient, providing a safe environment for employment, social and cultural activities for their families."
The State Government has issued a statement saying it is "aware of the water issue the Scotdesco community is facing".
"We will continue to work with the Scotdesco community in an effort to improve both the short and long-term options available," the government said.