Healthy $7b slammed as silencer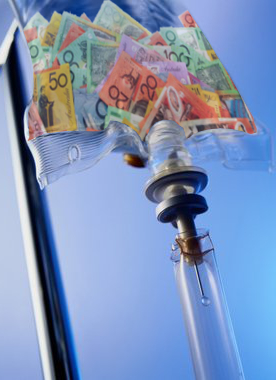 The main doctors' lobby is excited by a possible $7 billion emergency hospitals funding deal between the Federal and state governments.
The Australian Medical Association (AMA) says the big boost would be a welcome break from the policies of the Abbott government.
Health funding will be a major focus of meetings between Prime Minister Malcolm Turnbull and premiers and chief ministers at a Council of Australian Governments (COAG) meeting on Friday.
The states want the government to unwind an $80 billion cut to funding for schools and hospitals made by the Abbott government in its first budget.
But the push begins on shaky ground, with the Government denying that its funding changes constituted a cut.
Malcolm Turnbull says there will be some interim funding in the May budget to help hospitals deal with the rising costs of running.
In interviews this week Mr Turnbull said hospital funding is "a big issue", but that new money had to come from somewhere, and Federal coffers are running low.
Treasurer Scott Morrison is running a similar line, saying that many states are in surplus, while the federal government is not.
The Australian Medical Association (AMA) welcomed the prospect of a conversation, after railing against Abbott-era policies to little avail.
"There is no doubt this will make a difference – it means states and territories will be much better placed to preserve important hospital services," AMA President Brian Owler has told reporters.
"People can argue about whether it should be $20 billion, but this would take a lot of pressure off the states.
"This has been going on since the 2014 budget. It is the No.1 policy issue in health that has to be sorted."
The AMA says life-threatening conditions may not be addressed and emergency departments could be hit by delays if the funding cuts are not addressed.
Labor health spokesperson Catherine King says any potential deal would just be a bandaid aimed at silencing state leaders ahead of the federal election.
"This is patients once again being held hostage to Malcolm Turnbull's attempt to save his job with a pre-election bribe on hospital funding," she said.
Labor says that $7 billion in extra hospital funding is just a "drop in the ocean" compared to the $57 billion funding cuts from the 2014 budget.