Ambo assault stats low

Print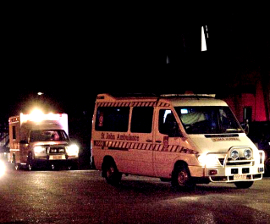 The true rate of assault on Northern Territory paramedics has been underreported, insiders say.
Last year saw 50 reported cases of assault on St Johns Ambulance NT paramedics, but ambulance services director Andrew Thomas says the true total is much higher.
He says incidents are often going unreported.
"It's becoming almost a culture within paramedics that it [is] almost seen as being accepted," Mr Thomas has told the ABC.
"Across the Northern Territory we had a number of assaults where our paramedics received physical blows to the face and the head, some of them have been when their back was turned, and we've all seen the information around one-punch hits.
"We've had people spat on, people threatened with objects … rocks thrown at vehicles while they are driving.
"It is probably fortunate that over 2019 we haven't seen anyone more seriously injured."
Of the 50 reported assaults in 2019, 34 resulted in staff requiring medical treatment and time off work.
Mr Thomas said the assaults sometimes delay the urgent medical treatment of patients.
"We're probably now starting to see some of the psychological impacts on staff," he said.
"They might not feel as comfortable to respond at night-time or certain types of cases might bring back some sort of memory.
"Trying to keep an eye in the back of your head, takes one eye off the patient.
"We've told people before, for their own safety, to pull back and wait for police to come and support them."
The NT Government brought in harsher penalties in 2019 for assaults on health workers, applying the same penalties to assaults on police.
It is unclear how many people have been prosecuted under these new laws.